Deer Point Trail - Christina Lake
Dino and I were both on separate vacations this summer, he in Alberta and myself and Louise in the Kootenays, but we arranged to meet in Christina Lake to see what the place had to offer in the way of trail riding. A quick stop into Wild Ways Adventure Sports (
www.wildways.com
), for trail tips and I was ready to rock! We rented a cabin at Camp Beverly Hills Resort and got down to eating and drinking in preparation for the next day's ride. Come sunup we shook off the mild hangover and headed for Gladstone (Texas Point), Campground to look for the trailhead, which turned out to be located immediately adjacent to the lower parking lot (trailer-lot for boaters, there is a major put-in within a stone's throw). If you can't find it, ask a local :-)
The Deer Point Trail begins with a gentle rolling climb for the first few hundred meters – then heads up, up and more up… You'll want to ride this on a light cross-country bike or just hike it. The trail surface is fantastic – if you can make your lungs and legs work hard enough, you'll stick to it and climb all the way. After several Kms of climbing the trail more or less levels out and rolls along the top of a ridgeline as it makes its way from mid-lake to the north tip of Christina Lake. Along the way you'll enjoy absolutely sweet single-track and beautiful views over the lake (which you can see most of the way along). As you approach the end of the trail it drops steeply to a cool surprise at lake's-end; more amazing single-track, woven through a several acres of ancient cedar trees! We spent some time at the lake and relaxed, trying to forget about how much vertical we lost in the final kilometer… knowing what that meant for the return trip. On the way in, just before we hit the cedars we noticed a small 2-track spur in the trail to the right. Having no idea where it went, we decided it was "trail for another day". I learned much later that the 2-track turns into single-track, then continues for 9km up Sander Creek to a dead-end, but apparently its "worth the trip".
I didn't GPS the route (hey, I was on vacation!), so the map below isn't even close to accurate, more along the lines of a "best guess". Overall, the route is about 20-is kilometers return and I would rate it somewhere between 'moderately difficult to quite a tough nut' (Blue Square to Black Diamond). The trail isn't particularly technical, in fact, the surface is excellent, but the climbing will have many riders doing a whack of pushing – both in an out. Additionally, there are many very steep banks immediately adjacent to the trail – a jaw-dropping fall on your left going in and on your right returning - thus bike handling skill & confidence is a must if you choose to ride. We met about a half-dozen hikers on-trail while we were there in Sept. – sort-of 'off-season', so I imagine that it's a very busy trail in the summer.
My recommendation is "Go ride it!", bring lots of food and water, don't' drag a beginner cyclist along on this trail.
Andrew D.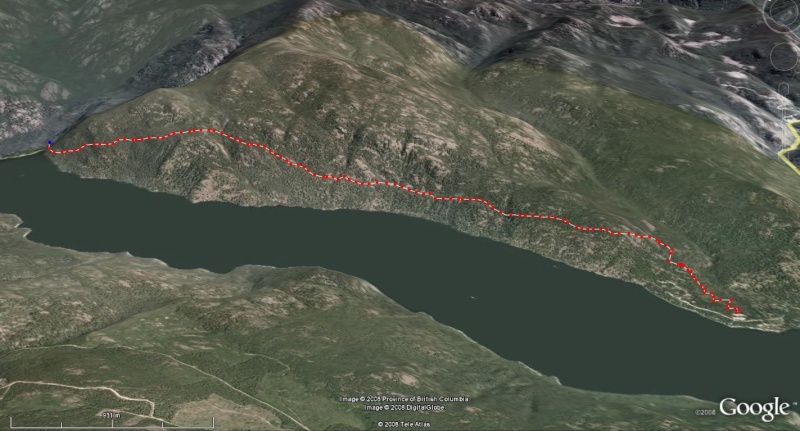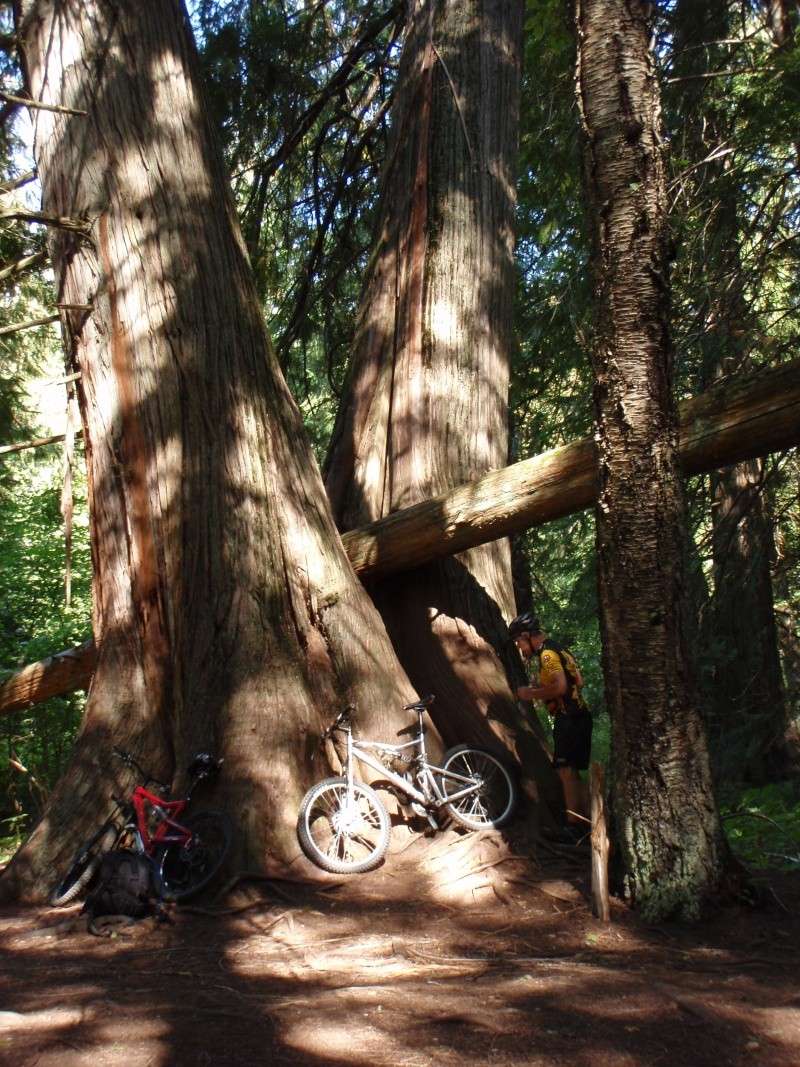 Admin




Posts

: 1401


Join date

: 2008-10-29



I've riden this trail a few times - great views and a pretty good ride. It's in Gladstone Provincial Park so if you go to bcparks.ca there'll be a map on the Gladstone site. Also Wildways in Christina Lake probably has maps and could give you good detail about the trail. Xenia Lake is 5km straight up from the head of the lake, so if you still have some juice left by then you could give it a shot...on second thought you'll probably end up pushing your bike up most of it, sorry forget that. Hike that part if you want, it's a nice lake.

Kev.



Posts

: 4


Join date

: 2008-11-11


Location

: Penticton




---
Permissions in this forum:
You
cannot
reply to topics in this forum