Mid-September Newsletter
Tuesday Toonie Ride
(Tonight!) Last mountain bike ride at Campbell Mountain is Tuesday September 18. 6pm register. Race 6:15pm
KVR Working Group Presentation
(Tonight!) September 18th, 6pm to 9pm to speak and learn about motorized alternatives to the KVR. Check
http://bike.7forum.info/t1103-kvr-working-group-public-open-house#1934
for more info.
Festival
Check
http://www.theadventureaddiction.ca
for details!
Thursday
1. Thursday, September 20th. First Campbellcross race. Register 5:45pm. Race at 6pm. $2 members $12 non-members.
http://pacacx.weebly.com/
2. BMX Race Night. See
http://www.pentictonbmx.com/for
details.
Friday
Events are being held at the Pavilion at Skaha Lake Park. FREE!
1. 5:30pm children's games and fun races (ex. newspaper toss, slow race)
2. 6:30pm VIMFF Films in the park. Bring your own lawn chair and a blanket.
Saturday
1. Climbing Festival. Check website for details
http://www.theadventureaddiction.ca
2. Gear Junkies expo at Skaha Bluffs parking lot. Come visit us at the PACA booth!
3. Mountain Bike Ride Kraut. 11am Skaha Bluffs parking lot.
4. Road Ride 11am Skaha Lake parking lot (off South Main) 40km
5. Sun n' SUP Regatta
http://sunnsup.com/
6. Evening @ Barley Mill Live Music with Ari Neufeld. BBQ and Drink specials.
Sunday
1. Test of Humanity.
http://www.testofhumanity.com/.
Come race or cheer on your PACA executive (Aaron, Anna, Gary, Laura, Linda, and Rowena)!
2. Visit the PACA booth and Sweet Single Track booth at the Test.
3. Climbing Festival
http://www.theadventureaddiction.ca
CX Series
1. Cyclocross Toonie Series starts Thursday September 20th $2 member's $12 non-members.
http://pacacx.weebly.com/
2. The Munson Mountain Vortex race will be part of the Toonie Series and the Interior CX series
http://interiorcross.weebly.com/.
$15 members $25 for non-members. Registration at 9am, 'B' race 10am, 'A' race 10:45am. If you would like to volunteer, please email
paca.penticton@gmail.com
. Same great Prize Pies you've come to expect!
---
September Newsletter
Lisa Prowse Mountain Bike Ride – Test of Humanity
September 9th will find PACA riding the Test of Humanity loop in Summerland with Lisa Prowse. There will be multiple leaders so it doesn't matter your skill level, come ride with us! Check
http://bike.7forum.info/t1057-test-the-test-group-ride
for details.
Toonie Tuesdays
Our Next Toonie Tuesday Mountain bike ride is September 11th. This will once again be run at the Test of Humanity course in preparation for the "Ultimate One" later in the month. If you didn't have fun at our last Toonie Tuesday, it's because you weren't there!!! The Cyclocross series will most likely become a Sunday afternoon series as daylight dwindles. Also Depending on the success of the first few races, this could possibly become a weekly event. A point system is being developed with prizes for winners! There will be points for participation so you don't need to be the fastest to win the prize. You can now remain up to date on PACA Toonie News even easier!!!
http://pacatoonierides.com/
If anyone is able to donate any old Cyclocross Tires (wheel size 700c) to help build up a Single Speed PACA Demo bike for the Toonie "Campbellcross" Series, please contact Aaron Barry. This bike will be available for anyone who wants to give Cyclocross a try. Email
acbarry@gmail.com
Roadies
Beginner to Intermediate Group Road Rides will continue to be held on Sundays as long as weather permits. Please check the Club Website for more details.
Mountain Bikers
Weekly rides continue into the fall. PACA has organized numerous night-rides over the past few weeks. Night-rides bring out a whole new character in your favourite trails!  Watch the Events Calendar at bikepenticton.com for dates and times.  
A group of riders are heading up to Revelstoke on Friday, Sept. 14th, to ride Frisbee Ridge on Saturday Sept. 15th and Keystone Basin on Sunday Sept. 16th – some returning home on the evening of the 16th, other staying on until Monday Sept. 17th. Full details on the trip are here;
http://bike.7forum.info/t1067-revelstoke-road-trip-details.
This is not a PACA insured trip.
Trails Days
Trail-Day, Sunday Sept 9th  PACA is working with BC Parks in order to do some minor brushing road-side on the Gillies Cr. FSR (the road we ride up to Rock Oven, WARD1, Kraut etc.)  If you haven't stepped up and worked the trails at least once this year, this might be your last opportunity of the summer to do so.  BC Parks shows us a lot of respect and has opened the [reserve!] parklands to us; do your part to pay it forward to them and your fellow trail users.
Gate
In order to complete a new (legit') trail 'up Carmi', PACA is putting a call out for a gate. We require a generic gate, the likes of Morgenstern's Gate, aka "the red gate", which graces the trail-head near the foot of Campbell Mt. If anyone 'out there' has an old, unused gate in the back 40, and wouldn't mind parting with it, please contact us.
Membership
There are still lots of reasons to sign up with PACA for the remaining months of 2012! Don't forget PACA offers a few options for membership. $45 gets you full membership with Cycling BC insurance for official PACA rides. $80 'couples' fee gets you full membership and can be used by any family members in the same house hold (partners, parent/child, siblings), and $20 gets you a supporter role which helps boost PACA numbers and clout when advocating for cycling in the south Okanagan!
Bring on beautiful autumn riding!!
---
August Newsletter
7 Summits
PACA heads to Rossland this weekend and you're invited! If you haven't ridden this fun and absolutely epic trail, this is your chance! Check out the discussion forum for details. http://bike.7forum.info/t953-paca-s-7-summits-road-trip-aug-11-12th-2012or contact paca.penticton@gmail.comfor more information.
Trail Day
PACA is hosting a Trail Day on Saturday, Aug. 18th. We'll complete the Garnet Fire Interpretive Center project, paving the way for PACA to begin our next legal / sanctioned trail - the 'Fiori Extension', on the north end of Campbell Mt.
Lisa Prowse Mountain Bike Ride – Test of Humanity
September 16th will be an Intermediate Mountain Ride of the Test of Humanity loop in Summerland. Check back at
www.BikePenticton.com
for details.
Penticton Downtown Plan
PACA recently participated in the Downtown Planning Charrette which was a multi-day visioning session for the future of our downtown. PACA advocated for bike parking, lower speed limits to increase safety for cyclists, bike lanes, and bike storage.
Penticton Transportation Committee
PACA sits on the Transportation Committee at City Hall. Let us know if you think of anything that you would like brought to this committee.
Fall Festival
Save the date! This year's Festival is partnering with the Climbing Festival, Sept 21-23. Future years will see this event grow to include other outdoor fun! Stay tuned for details.
Hayman Classic
The Hayman Classic is the September long weekend and is 3 stages: Time Trial, Criterium, and Road Race. They are looking for volunteers. Contact Sybilla Bartram at sybillabartram@hotmail.comif you are interested in helping out. Check out the website for more information http://www.haymanclassic.com/#!home/mainPage
Toonie Tuesdays
July has seen the start of our Toonie Tuesday Mountain Bike Series with a couple of Weeks of running these events, the dust is settling and we would love to see more riders out enjoying these Rides as that is what it is all about riding and thrashing bikes around with New and Old Friends and bragging about what you did or didn't do. Ladies, we particularly would love to have you joining us, testing your skills, showing some of these men how it's really done!! The $2 Entry Fee gets you a ride on Proven and Tested Courses, Beer, Music and Kicking back enjoying the after ride Chit Chat. Walmart can't even beat that for Price!!! Be sure to contact the club for Membership Details.
July has also seen the planning of a Toonie Tuesday Cyclocross Series which will be starting in September after the Completion of our Mountain Bike Series. Details can be found here ---> http://bike.7forum.info/t1001-toonie-tuesday-cyclocross
Currently we are looking for Guinea Pigs to test out the CX Course before the series begins so if you are into CX and would love to help fine tune the course contact Aaron. This Series may have a Points System with Prizes going to Overall winner, Most Improved and Person showing the most "Shinbone Spirit" (Person who even though doesn't win, fights hard and courageous and may cop a few pedals on the shinbones for doing so)
14th August - Toonie Tuesday Campbell Mountain
28th August - Toonie Tuesday Test of Humanity
11th September - Toonie Tuesday Test of Humanity
18th September - Toonie Tuesday Three Blind Mice
23rd September - The Test of Humanity
25th September - Toonie Tuesday Cyclocross Series Starts....
As we are heading to Summerland for a couple of weeks of riding, there will be the need for carpooling. If you are willing to offer up your vehicle for others to car pool or if you are in need of a ride to Summerland, please Email the Club and we will endeavor to get you setup for carpooling. If you are offering your car up for carpooling, please let us know if there is any cost involved to the person riding along. (Cost is up to the driver)
Roadies Update from Aaron
July was another great month for the Roadie group. Our Group Rides continued on even with a few of our riders having strange work schedules. Unfortunately our KVR ride to OK Falls didn't happen for our Potluck Picnic. We did however have a Potluck BBQ which hopefully everyone enjoyed as it's nice to catch up without Bikes and Cycling Gear. This month saw 3 new members joining us which is always wonderful.
I have two wonderful rides I would like to mention this month that we had. First was our ride to Little Tunnel via the KVR. The trail in this particular section is fairly good for a comfortable ride even with the uphill slant as you head towards Chute Lake. The Views at Little Tunnel make it all worthwhile and then turning around is the downhill which takes you all the way home. Second was our Club Ride to Camp Boyle hosted by Lisa Prowse. This was a perfect way to spend a Sunday Morning riding out through Faulder. These two Rides have seen some of our Best Group Attendances yet and we would love to see more of you guys join us. If anyone would like to join us on any of our KVR or Road Rides please contact Aaron acbarry@gmail.com
If you would like to host a Club Group Road Ride or KVR ride please contact the Club at pacapenticton@gmail.com
Coming In August will see more Club Rides. If you would like to be added to the Weekly Club Road Ride Email List, email Aaron. You will be then added to an Email List where likeminded Riders can share their Rides they are planning. August also sees Ironman Canada returning to Penticton with a Couple of our Very Own members racing this year. Executive Member Linda Downey and Members Donald Smith and Doug Howard are both competing this year so if you see either of them out training or racing, cheer them on!! Go You Good Thing!!! PACA would love to wish you both luck for next month's race and to any other members that are also taking on Ironman Canada, Good Luck to you too!!
Roadies- Stay Tuned!!
Roadies are you Feeling Left out? Don't worry, in the Brainstorming Phase are several events including Time Trials, Criteriums and Alleycat Races. The First Ride for Roadies will be "TT Thursday" which would be held bi-weekly where we will be testing you against the clock in a Time Trial over a distance of 12-20 kms. Again if you are interested in testing courses and having your input on route then please feel Free to Contact Aaron. 2013 should see a great year for racing as 2012 is the launch pad for great things to come. Contact Aaron: acbarry@gmail.com
---
July Newsletter
Toonie Tuesdays
PACA Toonie Rides begin July 10th! This event is open to club members only. Rides will be timed (for the enjoyment of the time keeper). First Toonie Tuesday will be from Campbell Mountain's north parking lot, registration at 6pm, mass start at 6:15pm. See the discussion forum for the most up to date information
http://bike.7forum.info/t961-toonie-tuesday
.
There will be a trail day this Saturday to fix up the course. Depart from Andrew's place at 601 Braid St. at 10am, head up via car-pool. We are also looking for donations of flour for trail marking and beer and barbeque meat pack sponsors. Contact
paca.penticton@gmail.com
if you can help out. Kudos to Aaron for all of his efforts in organizing this event!
Roadies – Aaron's summary
Check the forum to find out latest ride schedule
http://bike.7forum.info/f4-wanna-ride-meet-me-at
·
Overall Riders who rode group Rides - 9
·
New Riders this Month - 3
·
8 Group Rides in Total.
·
Longest Ride - 49 km
·
Total Km's - Approx 300
"Overall with the weather being the way it was, I am pretty happy that in June, we had riders at nearly every Group Ride that we had organised. In July, the Roadies might have a Picnic in the Park in OK Falls where we ride our Bikes to OK Falls, enjoy a morning Picnic, maybe enjoy an early morning swim and ride home. This is all weather dependent. I am thinking for next year, we will try to push riders to join us in "Granfondo Training" Rides, to see if we can get new members to join us. That's June in a Nutshell!"
If you have any ideas or suggestions let us know by replying to this email!
Mountain Bike Update
Rides and trail days continue on a regular basis throughout the summer. Check
www.BikePenticton.com
and visit the Event Calendar for more information.
Rumble Strips – Tell us what you think
The Ministry of Transportation and ICBC spend a lot of money on rumble strips (well, maybe not a lot in terms of overall road and highway budgets). Rumble strips decrease the number of motor vehicle accidents by alerting drivers if they leave their lane.
Rumble strips can cause problems for cyclists. They are another obstacle that has to be avoided, they can collect debris, and they make the shoulder narrower. They are also a problem in large events such as Ironman and Granfondo where they will force the pack onto the roadway.
The BC Cycling Coalition is opposed to the installation of shoulder rumble strips for the following reasons:
·
reduced shoulder width
·
a hard-to-see surface that can result in a fall
·
increased propensity for a roadside to gather debris
·
forced separation of cyclists from the travel lane
(Their website
http://www.bccc.bc.ca/rumblestrips.html
)
PACA does not have a formal opinion on this, at least not at this point, except that bike travel should be considered when doing any upgrade or maintenance on roads in the south Okanagan.
Obviously there are pros and cons - share your opinions with us;
http://bike.7forum.info/t976-rumble-strips-what-do-you-think
Fall Festival
The PACA executive has started planning for our Fall Bike Festival. This year sees us partnering with the Climbing Festival to make a bigger and better event. Feel free to get in touch if you have any suggestions or would like to help out. We seek a name for this joint venture and are hosting a competition to gain input. Check out
www.namethatfestival.com
to participate.
Cyclocross
Jeff Plant and Ron Hayman have offered to take on the organization of the fall CX event. It will remain a component of the Interior CX Series, but will run later in the fall, which is traditionally CX season.
Lisa Prowse to lead 2 rides!
Lisa will be giving feedback on skills for those that would like it. July 29th will be an Intermediate Road Ride in Summerland. September 16th will be an Intermediate Mountain Ride of the Test of Humanity loop in Summerland. Check back at
www.BikePenticton.com
for details. These are PACA rides so you must be a member.
Membership
Visit
www.BikePenticton.com
or your local bike shop to access membership forms. Membership is $45 for an individual, $80 for a couple, or $20 to be a supporter. Your participation in the club is key to expanding and supporting cycling in the South Okanagan!
Good luck to all the Granfondo, Mediofondo, and Cortofondo riders!
Ride safe.
---
PACA Newsletter - June 2012
Bike Network Plan
The City of Penticton is currently going through the public review process for their Cycling Network Plan. You can review it at
http://www.penticton.ca/bikeplan
. You can email
bikeplan@penticton.ca
to give feedback.
Junior Racing
Ron Hayman and friends have announced the Hayman Classic Junior Classic Road Race Events, Aug. / Sept. 2012. Check into the details here
http://www.haymanclassic.com
(Part of the Axel Merckx Youth Development Series). This event is an expanded version of the "Future Champions" criterium that was held at Gyro Park last year. The event focus is youth (11-18 years), but there will also be open categories for the criterium. The junior races are appropriate for newbies, no racing experience is necessary. Sybilla Bartram has again offered handle our volunteer recruiting. So if you have time to help – please email Sybilla at: sybillabartram@hotmail.com.
Bike To Work Week
The 4th annual BTWW was a huge success with over 100 cyclists enjoying free coffee and breakfast foods at the morning Celebration Stations. There were many first time riders trying out the morning commute on a bike. A HUGE thank you to the efforts of many volunteers, and special thanks to our community sponsors for the many prizes and our financial sponsors FortisBC, City of Penticton, BCGEU, ICBC, and the Province. See
http://www.biketowork.ca/penticton
for details.
West Kelowna Trails Plan
Many of us enjoy recreating on West Kelowna's extensive trail networks. Check out the Recreation Trails Master Plan taking place in the area
http://www.districtofwestkelowna.ca/index.aspx?page=707
Motorized Recreational Use Alternatives to the KVR
PACA is participating in a provincial task force exploring parallel/alternative routes for motorized recreational users on the KVR between Naramata and Myra Canyon. The working group consists of hikers, cyclists, quad, and dirt-bike riders along with municipal and provincial government level representatives. To date, we've mapped and explored several alternative routes, all of which our motorized contingent found agreeable. Watch the bike club website for project outcomes.
Toonie Races Coming To Penticton!
Thanks to the ground-work of Aaron Barry, PACA will soon be offering weekly / bi-weekly (weather dependant) Toonie Race events in the south valley! Keep an eye on the PACA Events Calendar for details. If you would like to volunteer during these events, please contact us at
paca.penticton@gmail.com
.
Recreational/Casual/'Senior' Riding
PACA gets a lot of interest for KVR style group rides. There seems to be a lot of people that want a social and fun activity to do. If anyone is interested, or knows anyone that would be interested, in leading some of these more casual rides please drop us a line at
paca.penticton@gmail.com
.
Hot Tip
Tighten Yer' Bolts! Grab an Allen key set and spend five minutes checking over the array of bolts on your bike. It's likely that you'll find at least one loose, as this simple routine maintenance will save you money in the long run!
---
May 2012
Executive summary
The 2012 PACA executive held our first meeting on April 15th and our second on May 6th. Next meeting is June 17th. The executive is made up of:
President: Rowena Tansley
Vice-president: Laura Harp
Membership: Colleen Hodge
Secretary: Linda Downey
Communications: Aaron Barry
Mountain Bike/Trails: Andrew Drouin, Gary Gregg, John Borkwood
Road: Colleen Hodge, Aaron Barry, Anna Toon
Treasurer: Rowena Tansley
Members at large: Anna Toon, Lynn Porteous, Gary Gregg
Membership
Forms are available at both bike stores! Go in and fill one out today! A reminder that there are 3 levels of membership:
1.
Full membership is $45 and insures you for Club rides
2.
Couples membership $80 (same as above but we are giving a discount!)
3.
"Supporter" is $20 and makes sure your voice is heard and your number counted, but no Club rides.
PACA Events Calendar
http://bikepenticton.com/PACA_calendar.html
Bike to Work Week
PACA is hosting Penticton's 4th Bike to Work Week. This event runs from May 28th to June 1. Check out
www.BikeToWork.ca/Penticton
for more information.
Volunteers needed! Everything from putting up posters, to picking up prizes before the event, to helping out in the mornings during the week. Please contact
janicejo@shaw.ca
if you are interested in helping!!
Celebration Stations are brought to you by The Bike Barn and Freedom the Bike Shop! All events run from 7am – 9am. Coffee is donated by Cherry Hill!
Monday: Gyro Park Breakfast Burritos from the Bench!
Tuesday: First Baptist Church (Corner of Government and Carmi)
Wednesday: Perrin Orthodontics South of the Library
Thursday: 2964 Skaha Lake Rd @ Oasis United Church (south of Wal-Mart)
Friday: Nanaimo Square downtown
Stay tuned for how to get a sneak peak at the Cycling Network Plan that gets underway during BTWW!
Thanks to our financial sponsors: FortisBC, the BCGEU, the City of Penticton, the Province of BC, and ICBC.
Road Biking!
Starting in May, road rides will be Wednesdays at 5pm and Sundays at 9am from Smith & Co. Road ride leaders will be Aaron, Colleen and Anna. Distances early in the season will be 25 to 50km with an average speed of 20 to 25 km/h. Duration will be 1 to 3 hours. Check the Club Website or contact
paca.penticton@gmail.com
for more information
Mountain Biking!
Check out the calendar for up coming rides and trail days. Weekly rides are leaving from Smith & Co at 9am on Sundays.
Some PACA members worked to replace posts, fix barbed wire fences, decommission a small section of trail, and paint the fence at "Morgenstern's Gate" entry / exit to Campbell Mt. Though not officially a PACA event, this definitely went a long way to maintaining good relationships with different land users and keeping this access open for the future. Nice work for all those that helped out!!
Andrew is planning PACA's 2nd annual 'Road Trip' for June 8th, 9th, 10th (arriving after work on the 8th, departing on the afternoon of the 10th). Participants must book ahead in order to secure camping spots at Ellison Provincial Park through DISCOVER CAMPING
https://secure.camis.com/Discovercamping
Email
paca.penticton@gmail.com
for more information. We'll be riding both Ellison and Kalamalka Lake Provincial Park (Cosens) trails over two days of singletrack nirvana! If folks want to bring kayaks / canoes for the in-between times or family, that's also a great idea.
Movie Night – "From the Inside Out"
PACA is hosting a Movie Night at the College Theatre, Wednesday, May 30th at 7pm. Admission will be "by donation" to cover costs. This is a freeride mountain bike film by Anthill Films. Looks like a good one!
http://www.youtube.com/watch?v=LeMpA_yAwe8
Survey
We need feedback! Aaron Barry has put together this survey. We promise we will read the results! Fill out the Survey by May 25th for your chance to win a bottle of wine (White or Red, Your Choice). Complete Answers get Two Entries into the draw. Winners will be notified by email.
http://kwiksurveys.com?s=LBOOGH_94e5f26b
Hot Tip
Smile! If you pass hikers on your mountain bike or motorists on your road bike, this small amount of effort will help improve relationships we cyclists have with other user groups. If they don't smile back, well, at least we tried!

---
April 2012
After a few false-starts, spring has (really) arrived! Check out all of the great bike-related gigs happening in the valley:
Shout-out to Mike and Lyndie at Hoodoo Adventures
(
www.hoodooadventures.ca
) for all of their hard work and determination in presenting a very successful ELEVATOR race event this past weekend. Its altruistic thinking like this that makes the sporting community a better place; kudos to them and everyone who worked together in pulling it off!
Skaha Provincial Park has grown
! Lands formerly under the jurisdiction of a trio of environmental groups have been handed over to BC Parks, thus creating a bigger, better public park system. The new Skaha Bluffs Prov. Park holds numerous singletrack trail networks, several of which PACA has reached management agreements with Parks BC on. "WARD1" and "Rock Oven" are the first, but if we show dedicated trail stewardship - perhaps others may follow in the future.
PACA has an Events Calendar
! This year it's easier than ever to keep up to date with PACA events and make plans to join us for some amazing riding. Check out
www.bikepenticton.com
and click on the EVENTS CALENDAR link to check it out. Thanks John B. for making this happen.
PACA's fourth annual AGM
went off without a hitch. We have a new president and vise-president, as well as a new executive member. Full details can be found
at this link
. The small effort required to support the club with your time is appreciated by all of those who ride in the valley.
Do your part; join the club
!
Adopt a Trail
PACA is keen to implement an adopt-a-trail program in the valley. Keeping in mind that the trails are only as good as the maintenance that we do on them - we'd really like to have a few dedicated individuals Cowboy Up! and show some trail love. At this point, we have the official "Ok" to maintain WARD1, Rock Oven and the Carmi trails, including the most excellent Canyon Rim Trail. Please contact me at
andrewdrouin@gmail.com
to learn how you can help.
PACA's Vernon weekend campout
. Last years' trail adventures in the north Okanagan were amazing! Those folks have trail love down to a science! I would go so far as to refer to their efforts in trail legalization, maintenance and signage as groundbreaking (pun:-) and a high-mark that PACA can work toward. Join us as we explore both Ellison and Cosen's Creek trail networks, ride with members of the Vernon club and do some lakeside camping (bring yer' kayaks, we do!). The gig rolls June 8th and 9th. Bookings for Ellison
http://www.env.gov.bc.ca/bcparks/explore/parkpgs/ellison
can be made through
https://secure.camis.com/Discovercamping
Our group has booked campsites in the low thirties section - everyone attending has to make their own bookings!
We hope to ride with you soon - "Change your world - join a bike club!"Hot Tip
Remember to check your tire and shock pressure before heading out this spring! Its all too easy to get carried away with the beautiful weather and pull a "grab n' ride"; only to find yourself with a pinch-flat and saggy shock miles from anywhere - and you forgot to pack a pump! Not that anything like this ever happened to me... yesterday :-)
---
March 2012
I know that all of you are chomping at the cable to ride - and the amazing weather that we've seen assures it; roadies are everywhere, with dirt riders soon to follow.
Just a heads-up to singletrackers; please use common sense with regards to riding when it's muddy. Conditions at present are such that mud and snow still cover most low valley trails, and riding in muddy conditions is hard on the surface composition; especially when that mud sets up into erosion-enhancing ruts later on this spring.
Mark your calendars / phones etc. - PACA's fourth annual AGM is being held this coming Thursday, March 15th. The event happens at the Penticton Lawn Bowling Club at 260 Brunswick St., at 6pm; bring your favorite dish and enthusiasm for all things 'riding'. We're celebrating with good food, good friends and the multiple award-winning trail documentary PEDAL DRIVEN; "A BIKEUMENTARY"
The club will vote on a new president and council during the AGM, as well as rally for membership in order to enhance our mission of supporting and promoting cycling in the valley. Application forms are posted online and will be available onsite during the AGM. As a sweetener, I'll be offering a free, one-year subscription to the online trail-guide
www.sweetsingletrack.ca
to those who sign up with PACA for the 2012 riding season
on or before the evening of the AGM
!
As of last Friday, hikers and bikers are back to "Square 1" with the City of Penticton as far as reestablishing access to Campbell Mt.'s southeast flank. As frustrating as this is for all of us, we need to keep the pressure on council and staff. Thus far, it's been pretty-much a one-horse show; me – and this needs to be greatly enhanced by your voices - or we will be forever without a [quality] legal southern rider's route onto one of our favorite local trail networks; Speak up!
The goal is a commitment from council and staff to (once again) green-light a long-term fundraising campaign (we do the fundraising / they shuffle the necessary paperwork) to erect a footbridge over Penticton Cr. at its current terminus behind the water treatment plant, followed by a rugged stairway up an embankment and connection with a nearby two-track switchback road up Campbell's eastern flank.
We've lots more to share with you, so make a note of Thursday, March 15th at 6pm and sit down with us for an hour or two at this years' AGM/Potluck/Movie Night. We hope to see you there!
Last edited by Rowena on Tue Sep 18, 2012 5:57 pm; edited 2 times in total



Posts

: 143


Join date

: 2008-11-06



The PACA group ride on the Test of Humanity Course with guest leader Lisa Prowse as mentioned in the newsletter has been moved ahead one week. Here are the details. Sorry for the inconvenience.
Gary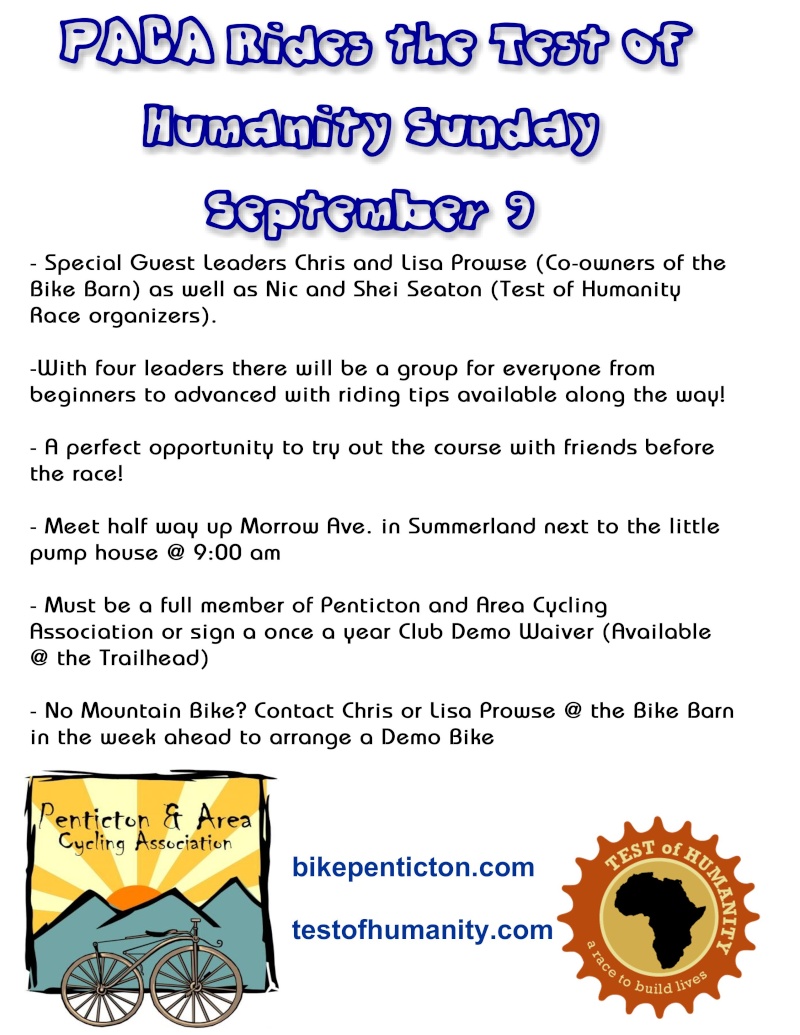 Posts

: 84


Join date

: 2009-07-04




---
Permissions in this forum:
You
cannot
reply to topics in this forum